Daniel Kopald Video Studios
Chicago Studio

24x19 corporate green screen studio featuring complete LED grid with Kino Flo Celeb 401s and 201s, ARRI 5' Fresnel, Ross Carbonite Black 2 switcher, Ross Expression character generator, NK router, Hitachi Z-6000 studio package cameras, Panasonic robo-cams, Yamaha digital audio mixer, Shure ULX-D wireless mics, KiPro Rack DDRs, AJA and Extron video processing, BIAMP audio processing, Black Magic monitoring, Prompter People TelePromters, Mid Atlantic furniture and racks, Vyvx connection, Cisco SX-80 Codec, Skype for Business codec
Early construction
Conduit installation
Pulling cable
The studio window was tricky to source but made the installation
I've been using the studio space during low-voltage installation.
It will be good to ditch the incandescents for the new LEDs
Rack install
The only analog gear in the studio are the wired mics
Five gallons in all.
Note the actual name of the color.
Integrated Cisco touch panel control
Furniture install.
ARRI 5" LED Fresnels
Initial programing
ETC Selador cyc light at 100% full white
ETC Selador lensed and dialed in for ultra-keying.
Note the need to install the correct lens on the wing light to provide correct spread.
ETC Smartfade
Very green
Hitachi Z-6000 cameras on fibre optic cables.
One of two Panasonic robo-cams.
Hitachi CCU controllers
Panasonic remote camera controller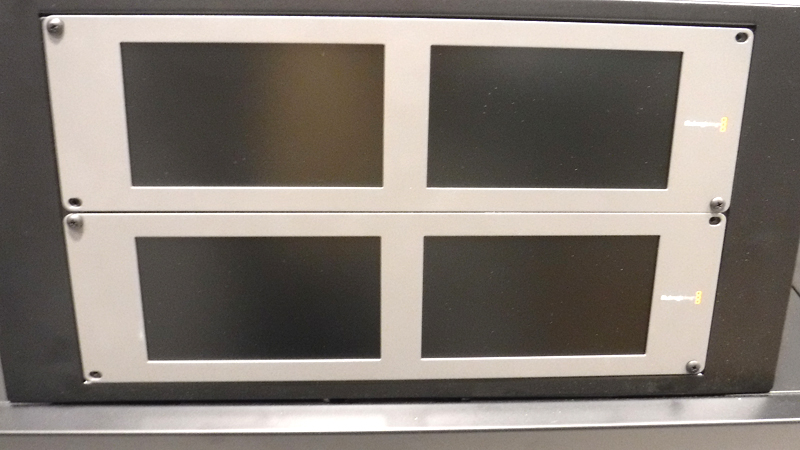 Black Magic scope/monitors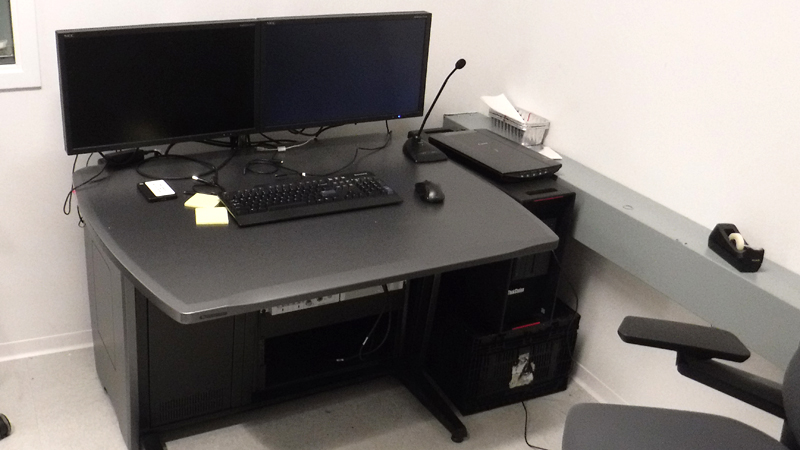 Lenovo P900 with 64Gb RAM, four SAS SATA drives and a couple spindles.
AJA Kona LHi capture/display card.
AJA KiPro DDRs
Super flexible file formats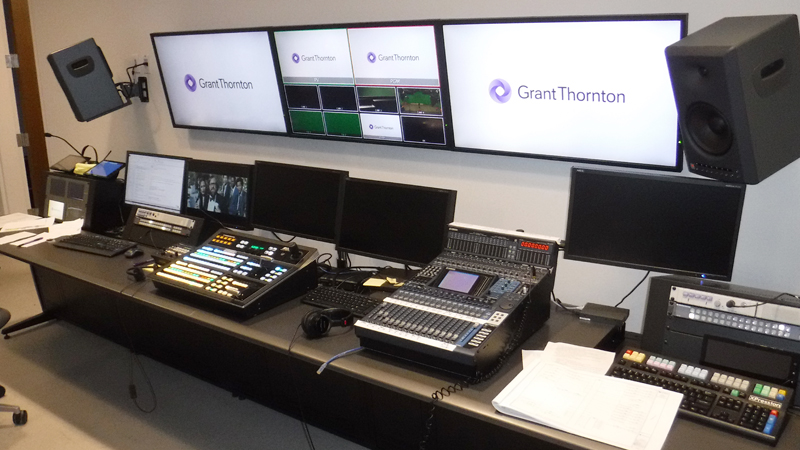 ROSS and Yamaha hard at work
Single-handed two camera shoots
The obligatory selfie
Charlotte Studio
17x12 corporate green screen corporate studio featuring: NewTek Mini, Panasonic robo-cam, Presonus digital audio board, Vyvx connection, Cisco SX-80 Codec, integrated LED lighting
Albuquerque Studio
3/4" Video Toaster studio